Traditional Maori Healing… A Gift From The Ancient Ones
Kia whai mana te kikokiko
Kia urutae tau wairua
Me whakae te mauri
ki nga uru-pounamu
e wai-whetu mai i te
Ao o tua-rere

Empowering the physical body
with spiritual consent is blessed
by the mauri that shines
brightly as the myriads of heavens universe
Our centuries old 'Waananga Lore' traces its origins to the Koha (gift) from IO (God, source of all) to Ranginui (Sky Father). This spiritual vessel was retrieved by one of his children, Tane and gifted to Papatuanuku (Earth Mother) creating the infusion of life.
The relationship between Mauri (life force), Wairua (spirit) and Ahi Tapu (sacred twin flames) is the foundation of our Traditional Maori Healing.
Our Traditional Maori Massage and Healing is a spiritual contract with our ancestors.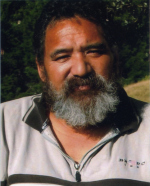 My learning has come from Papa Hohepa De La Mere of the Whanau a Apanui tribe from the east coast of Aotearoa. Papa was an extraordinary, humble and compassionate human being. While on earth he shared his teachings and healing with people across the planet making a difference in so many lives with his ancient knowledge.

I feel blessed and grateful to have crossed Papa's path. His message was to take the 'Mahi' ( healing bodywork) out to the community, the indigenous people of Aotearoa, Maori, and all other races we share the planet with. Our Maori Healing is a powerful gift to share and benefit all cultures of the world as it is based on universal principles.
Wikitoria